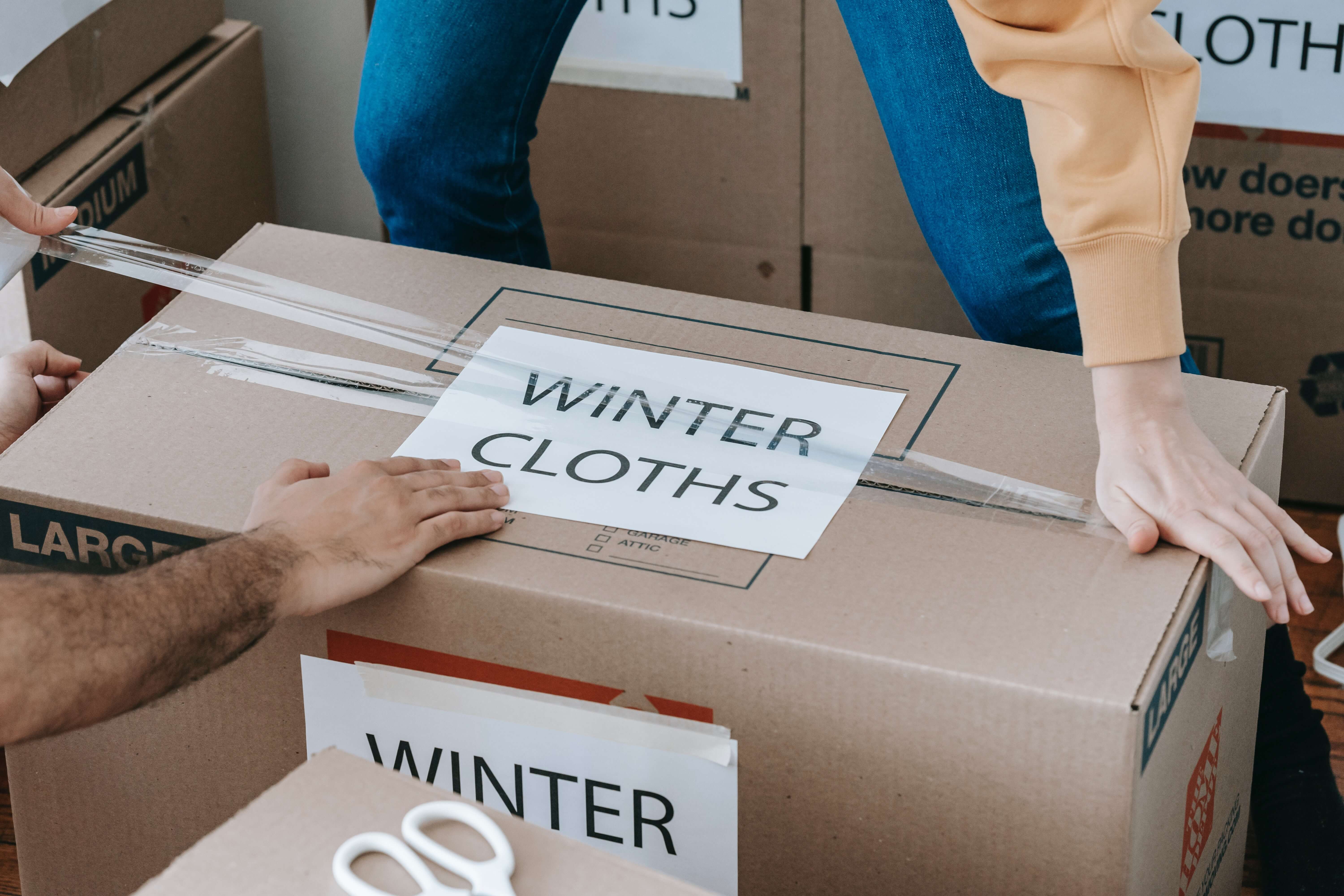 Moving any time of the year can be difficult and the last thing you want to do. However, moving in the dead of winter months maybe tops moving in any other season. It is cold and windy, and snow piles up can be unfavorable. While it is not the most fun time of year to move, here are a few great tips to help ease the pain of moving in the winter months.

1. Be prepared Really. Be prepared. The most important winter moving tip really comes down to being prepared and starting early. You will want to ensure that all of your boxes are packed and taped and that your car and or moving truck is pre-packed and ready to go the night before. If you can pick up your moving truck early, do so. The morning of your move, you will want everything to be prepared, so all you have to do is pack up your last-minute things and hop in the car/truck!

2. Form a moving crew While its helpful to have extra hands when moving at any time of the year, it's especially needed when moving in winter. You do not want to make this cold move alone. Make sure to gather the troops ahead of time. This can be a professional crew, your friends, or your family! Usually, you will get a few yess if you pay them in pizza and beer. Not only will the extra manpower be helpful, but you will be able to have a little fun along the way. Let the people you choose to help you lighten the cold with the warmth of, laughter and fun!

3. Be sure you have heat Whether you are moving to an apartment or a home to rent, call the utility company ahead of your move-in date so you can get the heat on and working! There is nothing worse than walking into a cold and empty place with it being absolutely freezing! This is a huge difference between moving in winter compared to the Summer, you want the heat to work immediately. It is already going to be freezing outside so set yourself up for success by creating a warm space to move into to beat the winter chill.

4. Warm-up while you work If you are moving with a crew (friends, family, or professional movers), we suggest you plug in the crockpot on your new kitchen counter and whip up some hot chocolate or even homemade apple cider! Better yet, we suggest feeding your crew too. Making some easy warm food or winter drinks is a great way to keep morale high and thank your crew. Pizza, subs, and heavy appetizers are all great ideas to fill your crews stomachs. Your moving crew will be thankful to warm their hands and insides from the cold and that small gesture as a thank you will go a long way with your crew!

5. Have the essentials Brrrr! It is cold! You will want to have the cold-weather essentials handy with you on move day! When youre moving in winter, you will want to have a hat, a breathable winter coat, winterized boots, and gloves with the fingers for easy lifting of boxes. You should also consider getting some pocket warmers to keep you and your crew nice and warm. Better yet, you may want to bring a few extras for your moving crew. Moving may be challenging, but at least you will be warm!

6. Clear a path This is as easy as it sounds. You will want to go ahead of time to your new home and shovel a clear path up to whatever entrance of your home you and your moving crew will be using. This is more than just snow shoveling, you can also use salt to make sure the way is clear and not slippery. Some communities may snow blow for you, and if that is the case, excellent! We still recommend bringing a shovel for any manual labor you may have to do. No one wants to move boxes and furniture with snow up to their knees. With this winter moving tip, also keep a snow shovel easily accessible for any last-minute snow clearing.

7. No animals allowed We do not mean at your new home. We mean during your move. Pets can take time to acclimate and if all of their familiar furniture pieces, etc. are not in the home yet they may begin to act out. Keep your animals warm and out of your way on moving day by boarding them or asking a friend or family member to take them for a few days so not only can you move, but you can get moved in and acclimated before you introduce your pet to their new home.

8. Bubble wrap is not just for popping We know, right? Sounds weird. BUT bubble wrap is perfect for wrapping your fragile pieces, photos, and dishes. Better yet, electronics are not a fan of the cold either, so bubble-wrapping your electronics and putting them in double-taped boxes will help trap the heat from the bitter cold! Using bubble wrap to insulate some of your temperature-sensitive objects with help your winter move go well.

9. Check-in Be sure to check in with your moving company and your moving crew at least a week ahead. With the winter season, you never know what the weather could be, and it can change daily. Be sure to track the forecast as well to dodge any inclement weather or storms so you can make any necessary changes ahead of time. Be cautious as your moving company may have a cancellation fee and if you cancel ahead of time, you may not be able to change.

10. Cover your floors Winter months bring snow, sludge, and wetness. You will want to make sure you cover your brand-new floors and carpet with tarps or cardboard. As you truck in snow and wetness, you will want to protect your floors as well as save yourself from slipping and getting hurt while you carry larger and heavier items. The last thing you want when moving in winter is to see your new floors covered in salt residue, puddles, or worse, slipping and getting hurt.

IS MOVING IN THE WINTER A BAD IDEA?
At its surface, moving in the winter may seem like a bad idea, but a lot of variables come into play. If you live in an area that experiences winter conditions like Michigan, does, then there is more planning involved so you don't run into any problems. Winter weather can be unpredictable, but monitoring the weather days before the big move is the best way to prepare. Despite this, many people still choose to move during the winter months, as it's likely you may have lower moving costs.
With kids in school and winter weather disincentivizing many from moving, moving companies are in less demand and therefore have lower moving rates for customers. In the weeks or months leading up to the big day, if you chose to hire a moving company, make sure you shop around to find the best deal to fit your budget.

We hope that these winter moving tips will help you on your big day! For more information and tips on apartment living, check out the rest of our blog! If you are looking for apartments in Southfield, MI, Chateau Riviera may be the perfect place for you! Contact our leasing office for more information.